Frequently Asked Questions
What is the Parent Portal?
The Parent Portal allows you to access information specific to your son or daughter regarding their progress at the College. This includes progress grades, attendance record, timetables and trip information.
How do I get access to the Parent Portal?
Accounts are created as part of the application process. The parent listed as the primary contact will be invited to create an account early on in the application process. Parents listed as secondary contacts will receive an email inviting them to create an account later on, as part of the enrolment process.
I've lost my Login Letter, can I receive a replacement?
To request a replacement letter, please email webservices@psc.ac.uk.
Why can't I find any exam results?
We don't provide access to exam results on this site. They are considered to be the property of the student, so we aren't able to make them available on the Portal. Students are able to access their own exam results via the Student Intranet.
Account Questions
How do I add another student to my account?
Each account can be linked to multiple students so that if you have more than one child at the college, you can view details for all of them in one place.
These instructions assume that you have already set up an account for one of the students. If you don't already have an account, follow the instructions on the "Login Letter" that you received from the college (if you received more than 1 letter, pick one of them to begin with)
To add another student to your account :
Sign in to your account (the account that you set up for the first child).
At the bottom of the page, click the "Account Settings" link.
Choose "Add a student to this account" from the Options list on the right of the page.
Enter the details from the "Login Letter" that you received for the other child.
Enter the code from the picture on that page and then click Continue.
If you have more than one student associated with your account, a "drop down list" will appear at the top of the page. This will let you quickly switch between your children.
How do I set up another account for the same student?
You are able to set up multiple accounts per student. You can use the same initial number and password to create multiple accounts.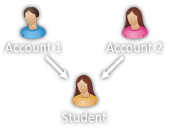 To use the number and password again, you will need to make sure that you're not signed in to any account. If you are signed in, you will see a "Sign Out" link at the bottom of the page, click it to sign out.
You will need to use a different email address for the second account.